Two NC State Record Catches Approved During November
            The North Carolina Division of Marine Fisheries recently announced that a pair of fish caught during September had been approved as N.C. state records.  One of these catches, a 23.5 pound rainbow runner, is the first state record for the species, while the other, a 58 pound cubera snapper, bumped the existing record by 11.5 pounds.
Bruce Vosburgh, of Kennett Square, PA., was fishing from Ocracoke on September 12 when he caught the big rainbow runner.  Vosburgh was fishing on the Drumstick, with Capt. Marty Baumgaertel in a group that included his daughter, Erin, brother Bill, and several friends.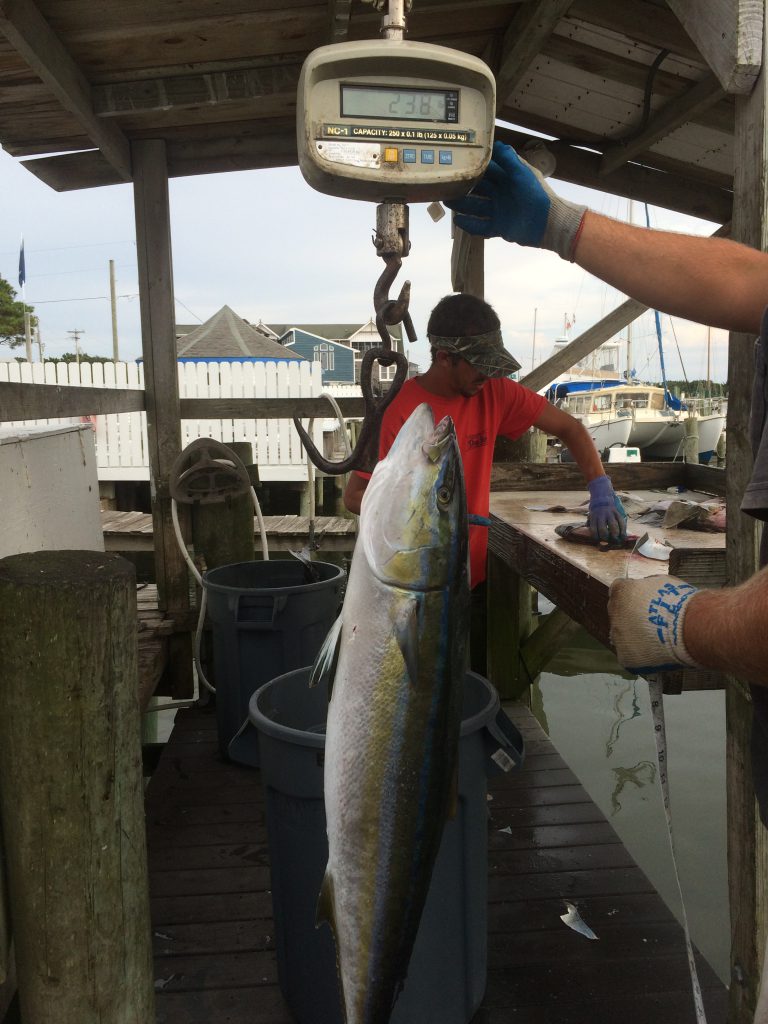 "It was already a good day when the rainbow runner hit," Vosburgh said. "We had trolled some on the way out and then bottom fished and had a  mixture of fish that included dolphin, amberjack and several species of bottom fish.  We were working our way back in and stopped on a wreck and began jigging.  I had just caught an amberjack and when this one hit, I thought it might be another.
Vosburgh said the fish fought as hard or harder than the amberjack he had just caught and it fought longer.  He said that several times he thought it was about to give up, but it got a second wind and began the hard fight again       .
"I was vertical jigging with a butterfly jig when it hit," Vosburgh said.  "It was a tough fight from the beginning.  I would be working it up and it would start to come, but then it would turn and head back down. "When it decided to go back down, I had to let it.  There was nothing I could do to stop it.  I was a little worried it would get back to the wreck and break me off, but it didn't.  After a fight my friends said was about 20 minutes, but seemed much longer, it finally tired and let me reel it in."
"We were on the way in and stopped at the Manuela wreck to check it out," said Capt. Marty Baumgaertel of the Drumstick.  "The scope was showing some nice marks suspended over the wreck, so Nick (Drumstick Mate Nick Piland) passed out jigging outfits to see if we could catch some.  I thought they were probably amberjacks and the first ones were.  Then Bruce hooked this runner and it was giving him a fit.
"I was up on the bridge and the first time I saw it, the blue and yellow was lit up and I thought it was a dolphin," Baumgaertel said.  "Then it turned and showed more side and I realized it wasn't.  I didn't know what it was right then, but I didn't even think rainbow runner.
Baumgaertel said they catch a few rainbow runners each year, but neither he nor Piland had ever seen one that big.  He said most of them are much smaller, around 8 to 10 pounds.
"Bruce asked if we should keep it and I answered yes, but I was thinking of eating it, not it being a record fish," Baumgaertel said.  "They have pretty white meat and taste good.  Some folks say they make very good sushi."
Vosburgh confirmed the rainbow runner tasted good, but said he hadn't tried it as sushi yet.  He said it was good fried and grilled.
The fishermen and crew talked about the size of Vosburgh's rainbow runner on the way back to Anchorage Marina and decided they would have to weigh it to see.  When it tugged the scales to 23 pounds and 8 ounces, they tried to look up the state record and found there wasn't one.  After speaking with someone at N.C. Marine Fisheries to confirm there wasn't a state record for rainbow runners, Vosburgh filled out a state record application and submitted it along with pictures.
All N.C. state record applications are researched and the information confirmed.  There are a couple of extra requirements for establishing an original N.C. State record.  Two of the primary requirements for establishing a new N.C. state record are that the fish's weight must compare well with the word record and the records of neighboring states.  Vosburgh's fish was a fair bit shy of Tom Pfleger's 37 pound, 9 ounce world record caught in 1991 off Isla Clarion, Revillagigedo Islands, Mexico.  However, it was substantially heavier than W.D. Harder's 14 pound, 14 ounce South Carolina state record caught off Georgetown in 1985 and so the N.C. state record for rainbow runner has been established.
Vosburgh's rainbow runner was 52.5 inches long (tail length) or 46 inches (fork length) and 20.5 inches in girth.  Rainbow runners (Elagatis bipinnulata) are a member of the jack family that are not found in large numbers anywhere, but are found in most temperate waters of the South Atlantic.  They prefer much the same habitat as amberjack and are usually found off N.C. in water approximately 80-125 feet deep.
Vosburgh was jigging a Williamson Benthos, 7 ounce, single hook, butterfly jig.  He was fishing a Sea Striker Billfisher Spinning rod and using a Penn Spinfisher V reel in the 7500 size that was filled with 80 pound braided line.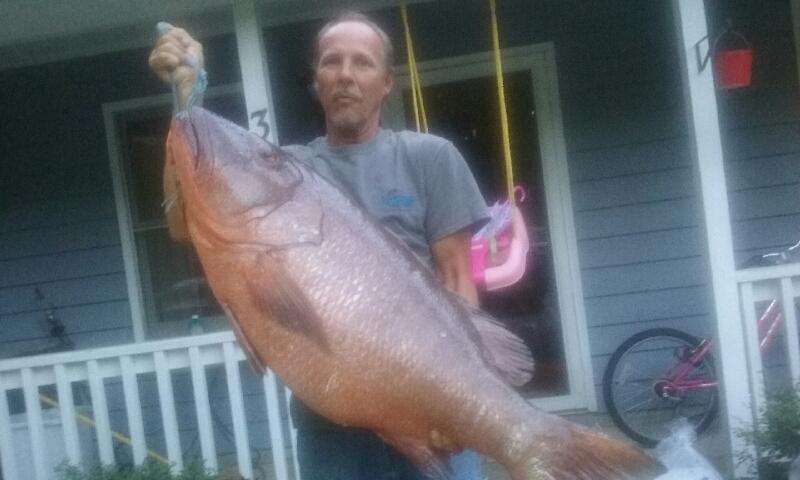 Cubera Snapper aren't extremely populous off the N.C. Coast, but there has been a state record for more than 20 years.  Randy Harmon, Capt Maurice Davis and all the mates knew the one Harmon caught while fishing on the Capt. Stacy head boat on September 28 was large, but they didn't have a scale to weigh it, so it was only speculation until they returned to the Capt. Stacy Fishing Center in Atlantic Beach late that afternoon.
Harmon said fishing had been good and he had limits of beeliners, triggerfish, and black sea bass, plus a good mixture of grunts, porgys and other bottom fish, so as the day wore down, he decided to try for something larger.
"Fishing had been good all day and we were working our way back in from several spots farther offshore," Harmon said.  "I thought this might be the last stop of the day, so I decided to put out a big bait and see if there was something big around.  I butterflied a Boston mackerel and slipped it on the hook then lowered it to the bottom.
"It wasn't long at all until it hit," Harmon said.  "The bite felt like a grouper, but when I set the hook it screamed out away from the boat and took a lot of line.  I thought it might be a shark."
From past experience, Harmon knew not to judge, give up, or cut off a fish until seeing it, regardless of how much it acts like an undesirable species.  That tenacity was rewarded on this trip with a nice fish and a N.C. state record.
Harmon struggled to raise the fish to the surface and was slowly winning the battle.  The fish was fighting so hard he couldn't reel it and was helping by pulling on the line by hand.  Finally he got it high enough in the water that Capt. Davis, who was standing on an upper deck could see it and realized it wasn't a shark.  His encouragement gave Harmon a little extra energy to crank the fish the last few yards.
"It had run out and been circling like a shark, but when I saw it, I knew immediately it wasn't a shark," Davis said.  "The rusty red color gave it away."
"This fish was fighting hard and making me work for every inch of line," Harmon said.  "When Capt. Maurice saw it and yelled that it wasn't a shark, it gave me a shot of energy to get it up.  Still, I was real glad to hear him call one of the mates to get the gaff.
"When the mate lifted it over the rail, I understood how this fish could fight this hard.  It was a chunk of pure muscle.  It wasn't real long, but it wasn't fat.  It was stocky, thick and plenty strong."
Harmon said as soon as the big snapper hit the deck, speculation began on how big it was.  Several of the mates looked at it and said it was the largest they had ever seen.  Capt. Davis agreed it was the largest he had seen off N.C.  The crew and other fishermen congratulated Harmon on a nice catch, but unfortunately, there wasn't a scale on board to weigh it.
Harmon said he continued to wonder about the weight and the record.  He said he nervously checked it in the fish box several times on the ride in.  As soon as the Capt. Stacy was within cell phone range, Harmon Googled the record and that kicked the speculation on the fish's weight into high gear.  The fish was big and felt plenty heavy, but was it more than 46.5 pounds?
Once the Capt. Stacy was tied up, Harmon  grabbed the fish and headed into the Capt. Stacy Fishing Center to see what it weighed.  Capt. Davis had radioed in and several fishermen had made cell phone calls, so there was a small crowd gathered to see the big fish weighed.  When the scales finally settled at 58 pounds, several people yelled with Harmon.  His fish didn't just break the record, but blew it away by 11.5 pounds.
The previous N.C. state record cubera snapper weighed 46 pounds and 8 ounces and was caught in 1993 by Edward Ruskowsky. The world record cubera snapper weighed 124 pounds and 12 ounces and was caught in the Gulf of Mexico off Louisiana in 2007.
Harmon's cubera snapper weighed 58 pounds even.  It was 39 inches long total length (tip of nose to tip of tail) and had a 34 inch girth.  He was fishing a piece of Boston mackerel on 80 pound test line on a 6/0 Penn reel on a Sea Striker 50 pound class rod.