Bull Reds by Kayak
The nearshore ocean run of bull red drum has been improving for several years off Oak Island and it has reached the point where it's really good and still getting better.  Oak Island is in Brunswick County at the far southern end of North Carolina.  It is the first island west of the mouth of the Cape Fear River.  Schools of these large red drum have been spotted even across the N.C./S.C. state line to Cherry Grove Beach, S.C., but the largest schools seem to be off Oak island, near the Cape Fear River.
No one has studied why these big drum gather here, but most fishermen are pretty certain it has something to do with the amount of bait flushed out the Cape Fear River on every falling tide.  The Cape Fear is the only large river in N.C. that flows directly into the ocean.  The others flow into a sound and the flows slows and the bait scatters, so they don't carry as much bait through the inlets and into the ocean.
It is undeniable there is plenty of food for the big redfish along the beach at Oak Island.  There are schools of mullet, both large and small, running the beach and schools of menhaden just off the beaches.  One fisherman jokingly said these fish were spoiled because they lived under a deli.  It might actually be that good.  It's rare to ride the beach at Oak Island and not find at least one spot where a flock of hungry pelicans are dive bombing the water.
While fishermen in boats chase these fish and occasionally they move close enough to shore to be in range of surf casters, this fishery has become a Mecca for kayak fishermen.  Kayak anglers come from far and wide to do some bull wrestling and most are usually rewarded.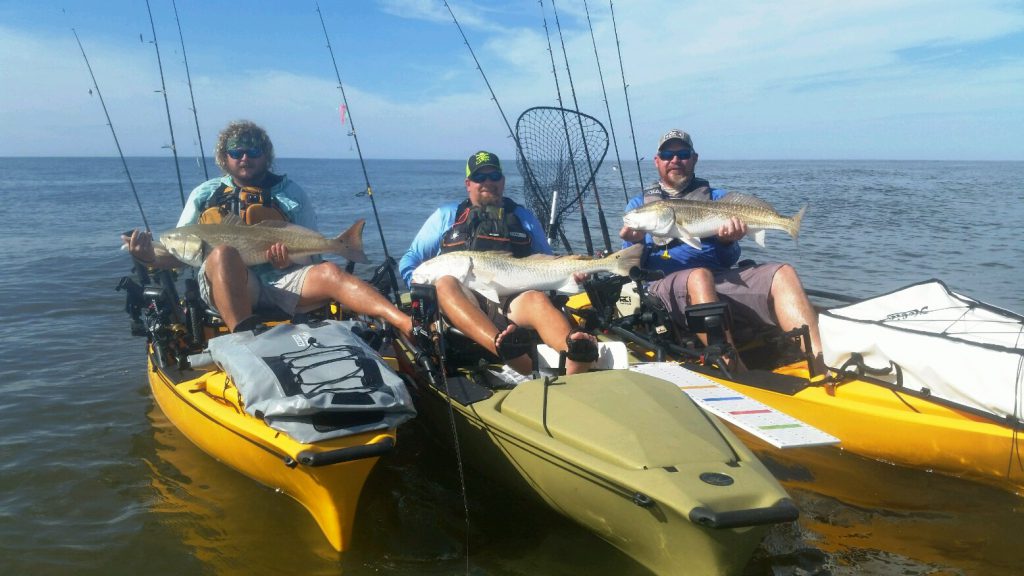 Jonathan Grady of Yakn' Off Outdoors Kayak Guide Service (910-818-0587) specializes in catching these big brutes off Oak Island.  Grady built a reputation for catching these big drum and king mackerel by being a repeat winner of the Ocean Slam Division of the Oak Island Fall Classic Kayak Fishing Tournament, presented at Oak Island each fall by the North Carolina Kayak Fishing Association.  He enjoys the action and fishes them almost every fall weekend.
Grady said his favorite bait is the head or body of a larger menhaden.  He fishes the piece of menhaden along the bottom while slowly drifting.  Menhaden are oily fish and a big part of Grady's preference for pieces is to get the scent spreading through the water.  Many inside fishermen have said red drum have the best nose in the marsh and can follow scent back to a bait better than anything else.  Apparently, big red drum in the ocean also have a good sense of smell.
Some fishermen troll live baits slowly to cover more water and some cast a variety of bucktails, bucktails with trailers, and larger soft plastics with the same goal.  Staying with the superior olfactory function of drum, using scented baits or adding scent to lures is a good way to attract drum and draw strikes.
Another technique that has been producing well is fishing a bait or lure suspended under a popping cork.  This technique was pioneered in the Pamlico Sound and Neuse River, but was mainly used in water shallower than in the ocean.  A large popping cork, like the Cajun Thunder Magnum, makes a big splash and a loud sound that carries through the water and helps attract fish in the deeper ocean water.
The bait or lure is suspended 2 to 3 feet under the cork and live or dead baits plus soft plastics usually get the drum's attention.  A live bait swims around and acts nervous when pulled through the water as the cork pops and this often triggers a strike.  The lure darts up when the cork is popped and then flutters back down like it is injured and easy prey.  The big reds must like this as it works almost as well as live baits. 
While some won't reach the 40 inch minimum to earn a release citation, all of these drum are overslot fish and must be released.  Some of them are genuinely big  and exceed 50 inches.  These are big fish, with big mouths and they tend to gulp down baits.  This is a good time and place to use circle hooks to help prevent deep hooking and make releasing the big fish easier.
Grady, his friends, and clients often have days when they catch 10 or more of these big drum each.  The big drum pull strongly and can really drag a kayak around.  There are some Oak Island sleigh rides and sometimes the big drum run in circles and spin fishermen like on a Tilt-A-Whirl.  It's all fun, but the fish should be fought on suitable gear so they can be landed without being totally worn out and have some energy remaining to swim away when released.
When you catch one of these big fish, remember they are the brood stock for much of the East Coast and handle them with care to insure their survival.  Sure you want pictures, but the worst thing you can do is to hold one of these large fish up by a fish grip, a lip gaff or its gill plates.  They need to be cradled under the belly and have their weight supported.  Holding them by the jaw or gills in a vertical position can damage their internals and throat ligaments necessary to breathe and feed.
Releasing large drum is more than just throwing them back over.  Occasionally one will swim off if treated this way, but many will float on top and they often become shark food before they recover.  Some don't recover.
Big red drum should be lowered into the water and either moved forward through the water or held upright and level while their tail is pumped.  If the boat is moving or there is current passing by, turn their head into the current and in a minute or so they will begin kicking to let you know they are ready to swim off.  If you are anchored, lean over the side and pump the fish's tail side-to-side while supporting its belly and head.  It will let you know when it's ready to go.
One of the worst ways to release these big drum (and any fish) is by moving it forward and back in the water.  Unfortunately, this is shown on TV all too often.  Fish lose all water from their gills when moved backwards.  Move them forward or hold them level and pump their tail.
It is known from the start these fish cannot be kept, so if you target them it is your responsibility to fight them quickly and handle them carefully to insure their best chance for survival!