No one has ventured a guess as to why there are so many huge gag grouper being caught this summer, but everyone is glad to hear the stories and see the pictures.  The pictures definitely have a huge "WOW" factor for most and you can decide for yourself after seeing several attached here.
South Carolina has a new state record gag and there is at least one making its way through the North Carolina state record approval process.  In addition, several huge gags have been caught that weren't eligible for state records because the anglers used electric reels to wrestle them from the depths.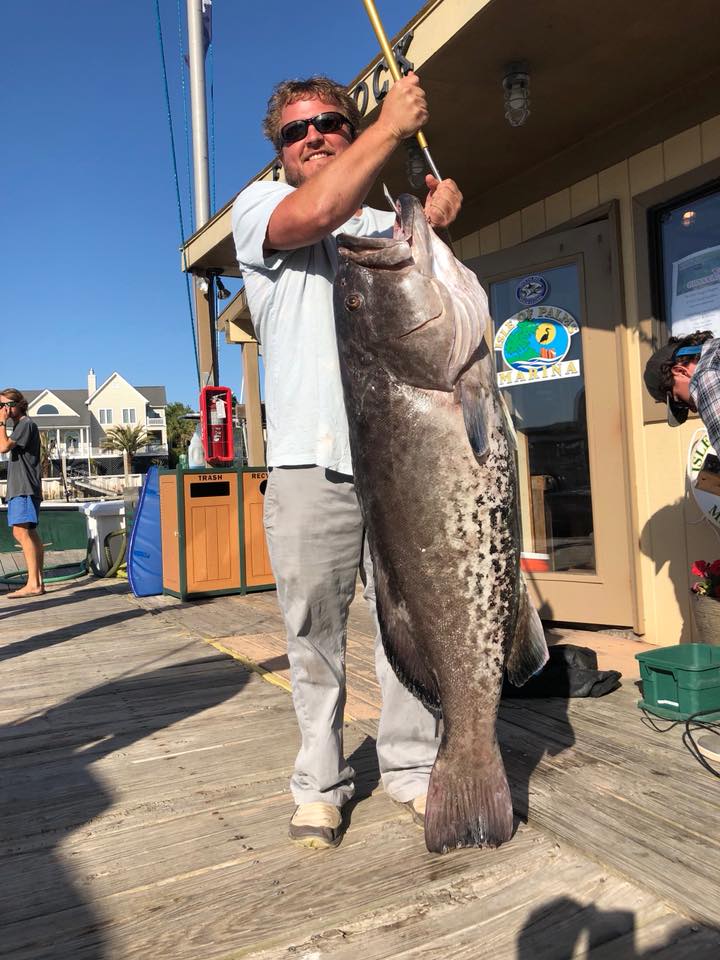 The barrage of big gags began on May 1 when Jim Lasher of Isle of Palms, S.C. headed offshore with some coworkers and Capt. Ben Floyd of Charleston Fishfinder. They were having a banner day catching dolphin when Lasher reminded Floyd it was the opening day of the 2018 grouper season and it would be nice to stop and catch some grouper on the way in. Floyd kept an eye on his fishfinder on the way in and pulled back the throttle on a piece of structure in 160 feet of water.  Lasher dropped a 6 ounce Spro Bucktail Jig, sweetened with a small piece of cut bait, to the bottom and the deal was on.
The big grouper was strong and after a few minutes turned and made it back to his rock.  Floyd maneuvered the boat and Lasher gave it some slack line and they got lucky as it came out.  This time Lasher was ready and wrestled it to boatside.  The men knew they had a special fish as soon as they saw it, but had to wait until it was weighed to know just how special.  Lasher first weighed it at Isle of Palms Marina and then at Haddrell's Point Tackle to confirm the weight.
Lasher called the South Carolina DNR office, but it was after hours and no one was available to check the fish until the next morning.  At that point it was verified as a gag grouper and officially weighed at 54 pounds, 4 ounces.  This was almost 6 pounds heavier that the previous record of 48 pounds, 8 ounces.
A pair of brothers from N.C. caught their gag grouper of a lifetime several weeks apart in June.  Alex and Anthony Ng have been grouper fishing for more than 30 years and aren't strangers to big fish.  However both recorded their largest gag groupers ever this year and the fish were approximately three weeks and three miles apart.
Alex Ng, of Morehead City, scored first on June 12. He was fishing in 180 feet of water approximately 40 miles out of Beaufort Inlet when the big gag hit. Alex said he had already caught a couple in the twenties, but knew immediately this was something different.  He had the drag tightened down all the way and the fish took line easily enough he thought it might be a shark or big amberjack.
After a few minutes of hard struggling he saw bubbles and knew the fish was coming up.  Neither he, nor his fishing buddy Bradley Brown were prepared to see the big grouper that rolled up beside the boat.  Brown quickly collected himself and stuck it with a gaff.  Ng said he was still sort of in shock until Brown called for another gaff.  That's when he knew his eyes weren't playing tricks on him.
Ng said they guessed the big fish at around 50 pounds and he was thrilled.  After snapping a few pictures, they slipped it into the fish box and continued fishing. It was hours later when they opened the fish box to take it to the certified scales at Chasin' Tails Outdoors and Ng said it looked larger than he remembered.  There was no doubt of its size when it tugged the scales to 63 pounds.
Several weeks later Alex Ng headed offshore on a grouper trip with his brother Anthony.  They couldn't help but talk about Alex's big fish as they headed to another structure a few miles away from where it had been caught.  Lightning would strike again, but this time Anthony would catch the fish – even if it was on his brother's rod.
Anthony Ng said they had a couple of nice grouper in the fish box when a big dolphin swam by.  Alex had just rebaited, but not dropped over, so he grabbed a spinning rod and cast a bait towards the dolphin.  It ate it and began to jump and run.
About this time Anthony reeled up and needed to rebait. There wasn't any bait cut, so he grabbed Alex's freshly baited rod and dropped it over.  The bait had just hit the bottom and Anthony got the reel back in gear when a grouper hit.  This was another smoker and headed off down the ledge.  Anthony said it ran so far he was just waiting for that telltale twitch as the line rubs a rock and breaks, but it never came.
Anthony said he now knows why they call these big gags freight trains.  He said he has caught several gags in the forties, but they didn't hold a candle to this one.  It ripped line from a reel that had the drag tightened as much as possible and fought all the way to the boat.  He said he was just about to call it a shark or huge amberjack when it rolled to the surface just off the boat.
Anthony said the fish was huge, but he thought it was just a little smaller than his brother's.  Later, the scales would tell him he was wrong.  Anthony Ng's gag grouper was 5 pounds heavier than his brother's at 68 pounds.
These fish will not be considered for state records, even though both handily exceed the current 47 pound, 4 ounce record held by Breece Gahl with a gag caught off Wrightsville Beach in 2017. Anthony Ng is the former owner of Precision Auto Electric Reels and they were using electric reels. The brothers have a commercial fishing license and knowing the fish couldn't be considered for records, sold them.
In early July, Capt Bonner Herring of Summertime Fishing in Southport took advantage of a perfectly calm day to head offshore with his family and a few friends for a day of mixed fishing.  His main purpose on this trip was to introduce his kids, Summer and Sawyer, to dolphin fishing, hoping they would like catching them as much as he had as a youngster.  That worked out and the kids enjoyed it as much as he had hoped.
After trolling for a while, he realized he was near a ledge that had produced several nice grouper in the past, so he stopped to make a couple of drops and see if there was anyone home this time.  He said they had caught a few gags, a couple of red grouper and released a few red snapper when Jeremy Wall's rod bent seriously.
Wall wrestled with the fish and finally broke its will to stay on the bottom.  Once it began coming up, it wasn't long before it was beside the boat and everyone gasped a little at its huge size.  It weighed 50 pounds, but Wall won't be applying for a state record. Like the Ng brothers, Wall was using an electric reel in the deep water.
NOTE: The current N.C. gag grouper record is 47 pounds, 4 ounces and is held by Breece Gahl with a fish caught off Wrightsville Beach last year. There are stories of two heavier fish caught in June and July. One is reported as 48 pounds and the other as 50 pounds plus.  A spokesman with the NC Division of Marine Fisheries confirmed that at least one state record application has been received and is being vetted.