HOW TO – Fishing the North Carolina Artificial Reefs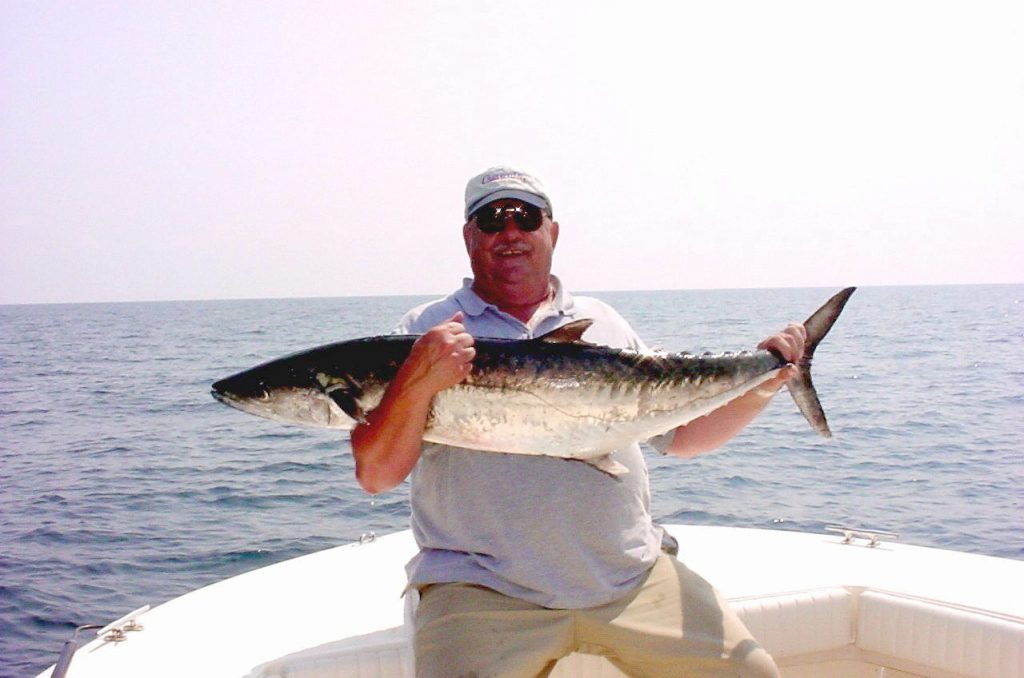 North Carolina has a very good Artificial Reef Program.  There are 41 ocean reefs from 1.5 miles to 40 miles offshore and 8 inland reefs.  The artificial reef program is administered by the N.C. Division of Marine Fisheries, but there are several artificial reef associations along the NC coast that assist by raising money to help with funding and soliciting materials for the reefs.
Many fishermen fish the artificial reefs and some do it better than others.  Most fishermen don't know the ocean artificial reefs are permitted for a mile of ocean bottom.  Where there are buoys, the buoys are located as close to the center of the reef as possible.  There could be reef materials in any direction up to a half mile from the buoy.  Some reefs have more materials than others, but even with the reefs that haven't been filled out yet, not all the materials are placed immediately adjacent to the buoy and there isn't a need to crowd around the buoy.
Inland artificial reefs are marked with smaller buoys on the corners.  There should be reef structure anywhere within the buoy perimeter.
A surprising number of fishermen do not fish the ocean artificial reefs because they believe they are too easy to find and therefore overfished.  These reefs are used well, but most continue to produce good numbers of fish and some large fish.  A first word of advice is to not overlook artificial reefs.  My personal experience fishing them includes one sailfish, lots of flounder, several large red drum, lots of gray trout, a couple of tarpon, a few cobia and a good double handful of winning and high placing tournament fish.
Several fishing techniques usually produce more fish and less lost rigs when fishing the N.C. Artificial Reefs.  All of these begin with the best knowledge possible of the reef.
Yaupon Reef (AR 425) is a great example of nearshore N.C. artificial reefs.  It was one of the early N.C. artificial reefs and was the first artificial reef for the Long Bay Artificial Reef Association (www.longbayara.com) when it was created in 1984. In the three decades since then, it has grown to be the most popular artificial reef site along the North Carolina Coast.  It has also grown to be one of the most highly developed of the N.C. artificial reefs.  Yaupon Reef is the closest reef to the Cape Fear River Inlet and can be reached when other reefs are not possible.  This makes it a first rate destination for fishermen and also an excellent location to receive reef materials when sea conditions prevent carrying them elsewhere.
Located slightly less than a mile and a half off the beach and approximately five miles from the Cape Fear River Inlet, Yaupon Reef was popular from its inception.  The buoy marking Yaupon Reef is located at 33.53.060N and 078.06.300W and can easily be seen from the beach on calm days.  Sometimes the crowd of boats around the buoy looks like a small floating city.
Yaupon Reef is widely known for producing doormat size flounder, tournament winning king mackerel and is steadily building a reputation as a spring and fall home for large red drum.  Add the schools of tarpon that wander by during the heat of the summer, cobia in the spring and numerous species of bottom fish and it's easy to understand why this is a place people want to fish.
Yaupon Reef isn't just popular with boat fishermen.  Many kayak anglers launch through the surf at nearby Oak Island and paddle out to the reef.
Flounder fishing is good at Yaupon Reef from roughly May until November depending on how quickly the water warms and cools.  King mackerel and large drum usually put in a good showing in the late spring, then return again at roughly the end of September.  Occasionally a few are caught during the summer also.  The fish are there in the best numbers and are the most aggressive in the fall. Other fish caught at Yaupon Reef include cobia, tarpon, Spanish mackerel, bluefish, sea bass, sheepshead, gray trout, jack crevalle, false albacore and sharks.
Fishermen at Yaupon Reef use three primary means of fishing and all produce fish.  Some like to anchor and fish live baits on the bottom for flounder and/or larger live baits near the surface for king mackerel, cobia, drum and more.  Fishing live baits on the bottom results in occasional hang ups, but if you aren't fishing close enough to the larger structure piles to get hung occasionally, you're not in the best fishing spots.  Fishing vertically from right over the structure produces less snags than casting.
Fishing live baits near the surface brings a chance for pandemonium when a fish hits and runs hard.  You must be prepared with a float on the anchor line so it can be quickly untied and tossed overboard to allow chasing the running fish.  On days with small crowds it is possible to not have to chase hard running fish, but when the reef is crowded, not chasing the fish almost always results in it being broken off by hitting an anchor line or something.
Some folks like to slowly move across the reefs while vertically jigging bucktails that have strips or soft plastic lures as trailers.  The primary target with this is flounder, but it also catches red drum and occasionally other fish.  The purpose of not anchoring is to be able to cover more of the reef.  When conditions are right, drifting will accomplish this.  Many fishermen leave their outboard running and may bump the motor in and out of gear to help control the drift.  Jigging vertically helps prevent snags.
With the growing popularity of bay boats, many of the boats on artificial reefs, especially the nearshore reefs, have trolling motors.  This allows fishermen to turn off their motors while drifting and jigging the reefs and still have maneuverability.  Some of the newer trolling motors have features that will hold a boat in position.  When a fish hits, the fisherman engages the position holding mode and the trolling motor holds the boat in that location so the fisherman can drop down again and see if there are other fish in the same location.  You gotta love technology.
The third way to fish the artificial reefs is trolling.  Trollers include fishermen using lures and moving quickly and live bait advocates trolling slowly.  Using planers with lures or downriggers with live baits allows fishing trolling baits deeper in the water column and not just at the surface.  Fishermen trolling lures generally catch Spanish mackerel and bluefish, but may also catch king mackerel and more.  Fishermen trolling live baits generally catch king mackerel, but may also catch Spanish mackerel, tarpon, cobia,  red drum and more.
The big point here is not to overlook artificial reefs – even the ones that are close to shore and everyone can find.  These reefs were designed to attract a variety of fish and they do.  To find out more about artificial reefs across N.C. visit the Artificial Reef program section of the Division of Marine Fisheries website at http://portal.ncdenr.org/web/mf/artificial-reefs-program.  Each reef is listed with most of the material deployed on it, but they aren't totally up to date.  The good news is there are individual GPS locations for everything listed.  There is also a 43 page "Reef Guide" that can be downloaded.
The reefs in Long Bay (Cape Fear to the S.C. state line) are listed in a little more detail on the Long Bay Artificial Reef Association website at www.longbayara.com.  Some of the reefs, like Yaupon Reef and McGlammery Reef (AR 420), list more than 50 different deployments of materials in their area.
Many years back, the Division of Marine Fisheries printed an "Artificial Reef Guide" that even included mini maps showing the major deployments on each reef.  The word from the Marine Fisheries Artificial Reef Program is that the data base has been updated and they will soon be printing a current version of the "Artificial Reef Guide."  Soon means different things to different people and far different things to state agencies, but hopefully these will be available before long and show all the updates to the N.C. artificial reefs.  It's quite a program and quite an extensive list of good places to fish.