Pelagic Sportfishing: The Best of Both Worlds  
Atlantic Beach N.C. and Puerto Quetzal, Guatemala
Capt. Mike Webb has it made.  He is the owner-operator of Pelagic Sportfishing (www.pelagicsportfishing.com) and does what he loves every day.  He spends spring through fall in Atlantic Beach, N.C. running the Pelagic (61′ Guthrie) and Pelagic Too (31′ Contender) and escapes for the winter to sunny, warm Puerto Quetzal, Guatemala, where he runs the Sea Angel (28′ Super Panga).  Capt. Mike would fish every day possible and adding his Guatemala charter business keeps him busy during the winter.  It makes you wonder if it was luck or fate that his friend, Capt. Bruce Armstrong, introduced him to Puerto Quetzal?
Capt. Mike is a serious fisherman who enjoys what he does.  He is currently fishing off Atlantic Beach for wahoo, large blackfin tuna, a run of late sailfish, grouper and a mixture of other offshore bottom fish.  It is December and his most recent clients caught wahoo, blackfin tuna and released several sailfish.  A few days before that his clients limited on grouper and added some very large black sea bass.
Capt. Mike said the weather doesn't always cooperate as winter approaches, but when it does the fishing can be excellent, usually far better than anyone believes possible.  He is making believers out of a growing list of clients.
"As winter approaches, the water cools and temperature breaks become more prominent," Capt. Webb said.  "They may be 3 or 4 degrees instead of the smaller differences earlier in the year.  This much change will be readily apparent on the temperature graph, even if they don't show up visibly in the often cloudy winter conditions.  The fish usually hold along the temperature breaks and if you can also locate bait, the deal is usually on.
"I can't tell you why, but the fish may be on either side of a temperature change in the late fall," Webb continued.  "Don't leave a hard break without fishing both sides.  The fish sometimes hold and feed in cooler water.  It would be nice, but you don't need to know why, you just need to know to fish both sides before giving up on a break."
Capt. Mike said he doesn't change his baits or lures.  He fishes a mixture of sea witches, Ilanders, Ilander Jrs and similar lures in blue/white, red/black, purple, and green/yellow that are rigged with 12 pack (medium ) ballyhoo.  Capt. Mike said that when the fish are feeding they usually hit every color.
"This is also a great time to catch grouper and other offshore bottom fish," Capt. Mike said.  "The water has cooled and they have moved back offshore, but we had a really good nearshore grouper bite going until the water cooled.  They are still biting, but now the action is out at 100 feet or so."
Capt. Mike said the way to catch grouper is to fish for grouper, not a variety of fish.  He fishes large pieces of bait that are intended for grouper, not smaller fish.  Capt. Mike said there are times other fish are around grouper and you will catch some, but catching grouper consistently means paying attention to grouper, not the others.  He doesn't stop heading offshore until the water temperature is in at least the mid 60s.   Capt. Mike said you will catch some black sea bass, grunts and porgys in cooler water, but grouper bites will be rare.
* NOTE:  Grouper season closes on January 1 and reopens May 1.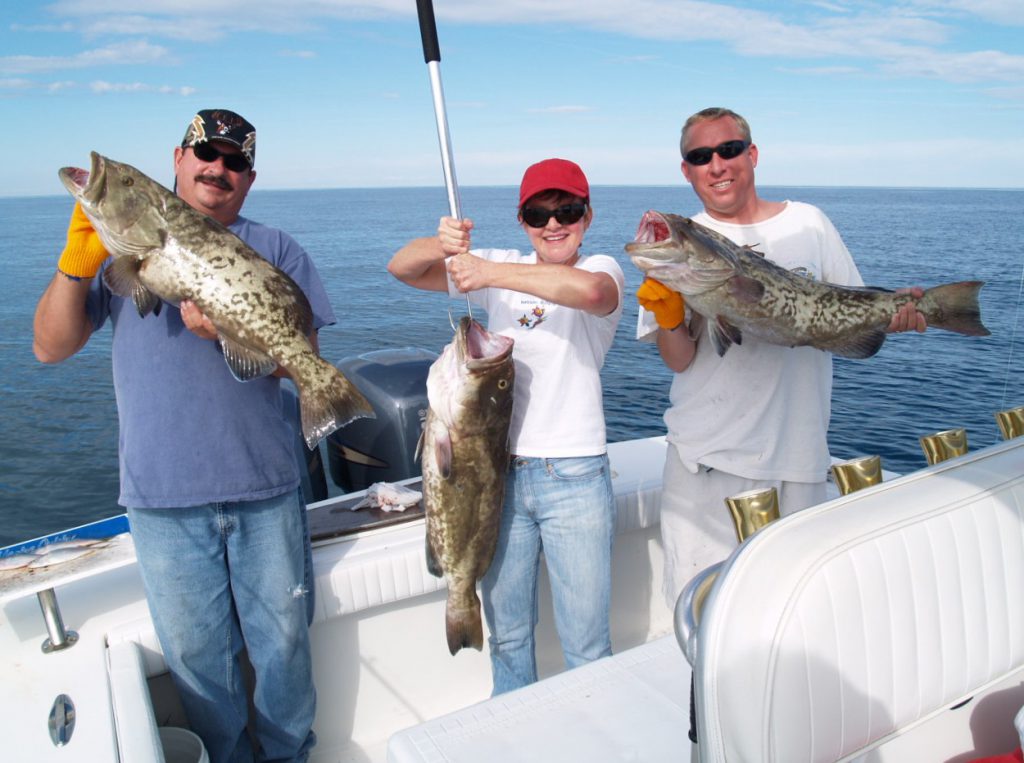 If an excellent late season charter from Atlantic Beach to stock the freezer interests you, give Capt. Mike a call.  The fishing has been very good this fall.
However, if a winter getaway to warmer sunnier climes strikes your fancy, you should also call Capt. Mike.  He will be heading for Puerto Quetzal, Guatemala the third week in January.  Usually all his dates are taken before he leaves, but he currently has an opening in late January and another the third week of February.
Capt. Mike's stateside charters are first class and he goes out of his way to make sure the whole Guatemalan experience is memorable.  Clients are greeted at the Guatemala City Airport by an English speaking driver, who transports them to where they will be staying in Puerto Quetzal.  Everyone stays in bungalows in the same resort with Capt. Mike.
While in Puerto Quetzal, Capt. Mike serves as the driver to Marina Pez Vela for fishing and out on the town for the evening meals.  Breakfast is served before leaving the bungalows and each morning Capt. Mike prepares fresh sandwiches, fruit and ices down drinks for snacks and lunch on the boat.
Pacific sailfish are the stars of Guatemalan fishing.  Pacific sailfish are larger than their Atlantic cousins and they are usually around in good numbers.  They start at roughly 80 pounds, average 100 pounds or maybe a little more, and there is always the chance of catching a real brute.  Occasionally dolphin, tuna, and sierra mackerel, a Pacific cousin to Spanish and cero mackerel, try to unsuccessfully steal baits and there is fresh fish for dinner.
Capt. Mike said he is comfortable with saying he expects 8 or so shots at sailfish each day.  Fishing can be slow occasionally, but it can also be red hot.  If I remember correctly, my group's best day was catching (and releasing) 34 of 54 strikes.  A few days later we caught a sailfish so large no one had a  clue to estimate the weight before it was released.  Sometimes the sailfishing gets exceptionally  good as evidenced by the world record of 124 sailfish releases in a day that was set in March 2006 by the legendary Ron "Captain Hook" Hamlin and crew.  Wow!
If you are looking for a winter getaway with someone who enjoys fishing as much as you do, several days in Guatemala with Capt. Mike Webb of Pelagic Sportfishing might be just the ticket.  You can be wearing shorts after a flight that is less than 4 hours from Atlanta.
If you need a fishing fix between now and early January, Pelagic Sportfishing can help you there too.  Capt. Mike is running the Pelagic offshore when the weather allows until he leaves for Guatemala and running the Pelagic Too for Grouper until the season closes on January 1.  These trips have the extra potential for filling your freezer with fresh fish fillets to help make it through the winter.