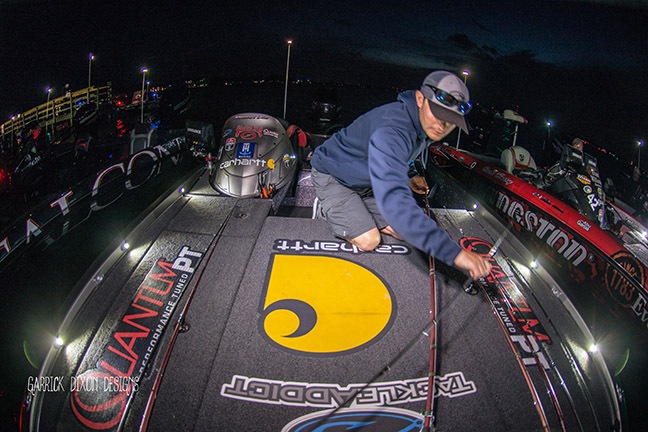 New York, NY (March, 26 2018) – When the pyrotechnics flared and confetti fell on the stage of the 2018 GEICO Bassmaster Classic presented by DICK'S Sporting Goods, it was 26-year-old Seaguar Pro Jordan Lee standing in the middle of it all with the coveted first-place trophy hoisted into the air. And, yes, he's the same Jordan Lee that took top honors during this most popular of tournaments last year.
The third person to ever win sequential Classics, Lee's techniques on Lake Hartwell, South Carolina, March 16 through 18 required lighter line than most anglers would even consider using around such heavy cover as docks and brush piles. But it was his total trust in Seaguar fluorocarbon and braid that allowed him to fish with confidence during the three-day derby.
Most of Lee's fish came on only five different baits throughout the tournament, but it was free-falling Neko-rigged Ocho on the light line that really showed through.
Spooled onto his spinning reels for this method was 30-pound-test Smackdown — which has a diameter of .009 of an inch, and is the same diameter as 8-pound-test monofilament. And it was 8-pound-test Tatsu fluorocarbon, boasting the same diameter, which Lee used as a leader.
"Using that light of line around those docks in kind of scary," Lee told the press. "But I never broke off a fish and I never lost a fish. I just fished clean all week."
Eight-pound-test Tatsu fluorocarbon was also used when Lee was retrieving swimbaits through the thick of things, while 10-pound Tatsu was his go-to when working jerkbaits back to his boat. It was only when casting his handmade "vibrating jigs" that he used line any heftier, and it was only Seaguar's AbrazX 100% fluorocarbon — with 2X's the abrasion resistance — in 17-pound test that he trusted.
Fishing docks is one of Lee's favorite techniques on his home waters of Alabama, so the method boded well with the spotted and largemouth bass that were making their way to the shallow in preparation for the upcoming spawn.
But pre-fishing didn't go well for him, so he went into the tournament on Day One with no real game plan.
"I didn't go out all week thinking I was going to win this tournament," Lee told Bassmaster magazine. "I just decided I was going to fish the way I wanted to fish. You can't plan on winning this tournament. Everything just has to fall into place."
Lee's Day One weight of 18 pounds 10 ounces was followed up by a 12-pound 2-ounce limit of spotted bass, which was enough that he could fish Day Three alongside 24 of the other top competitors. Starting in sixth place during Sunday's championship round in, Lee culled to his five heaviest bass for 16 pounds, 5 ounces and won with a three-day total of 47 pounds 1 ounce. This latest $300,000 prize has now pushed his career earnings with B.A.S.S. past $1 million mark.
Joining Lee during this year's Bassmaster Classic were 8 other Seaguar Pros, including Keith Combs, Mark Daniels Jr., Mark Davis, James Elam, Brandon Palaniuk, Jesse Wiggins, Cliff Pirch and Jordan's brother Matt Lee. And seven of the nine pros proudly sporting the Seaguar logo on their jerseys made it to the last day of the top 25. That's an amazing 36% of the final field.
Some may say such a win at the Classic boils down to sheer luck, but Lee's proven he possess a little something extra by winning two in a row. He's earned and deserves every bit of respect and adoration his fans, competitors and sponsors give him. Seaguar is proud to support Jordan Lee as well some of the finest anglers on the water, and congratulates them all.