Emergency Cut Off Switches Required as of April 1
Beginning on April 1, 2021 operators of most small recreational boats can no longer go strapless.  The primary drive of new regulations that become effective that day is that any time someone is operating an open boat of less than 26 feet long at above trolling speed, they must be connected to the engine cutoff switch.  This new regulation is part of the National Defense Authorization Act that was passed on January 1, 2021and implements a 2018 federal law requiring the emergency cut off devices be installed on all new boats.  The purpose of the legislation is to prevent any boat traveling on plane or above displacement speed from continuing on if the operator falls overboard while under way.
​This is not an April Fool's joke; just the opposite – it is deadly serious.  Every year, people are injured or killed when operators somehow fall from their boats running at speed.  When this happens, boats with hydraulic or no feedbacksteering will continue on their course until they either hit something that stops them or run out of gas.  The torque from propeller rotation on tiller handle boats, or those with non stabilizing steering, will  turn the boat in a tightening circle that has been called the "circle of death" as many times the operator and/or any passengers thrown from the boat may be struck by the spinning propeller.

​The emergency cut off device is either a lanyard attached to a switch that shuts down the motor when pulled free or an electronic fob, carried by the operator, that activates an engine shut off switch when it gets wet or is moved more than a set distance from the switch.  The electronic fob operates similar to the fobs being used to control the ignition switch on many new automobile models.  Both turn off the motor to help prevent injury and damage.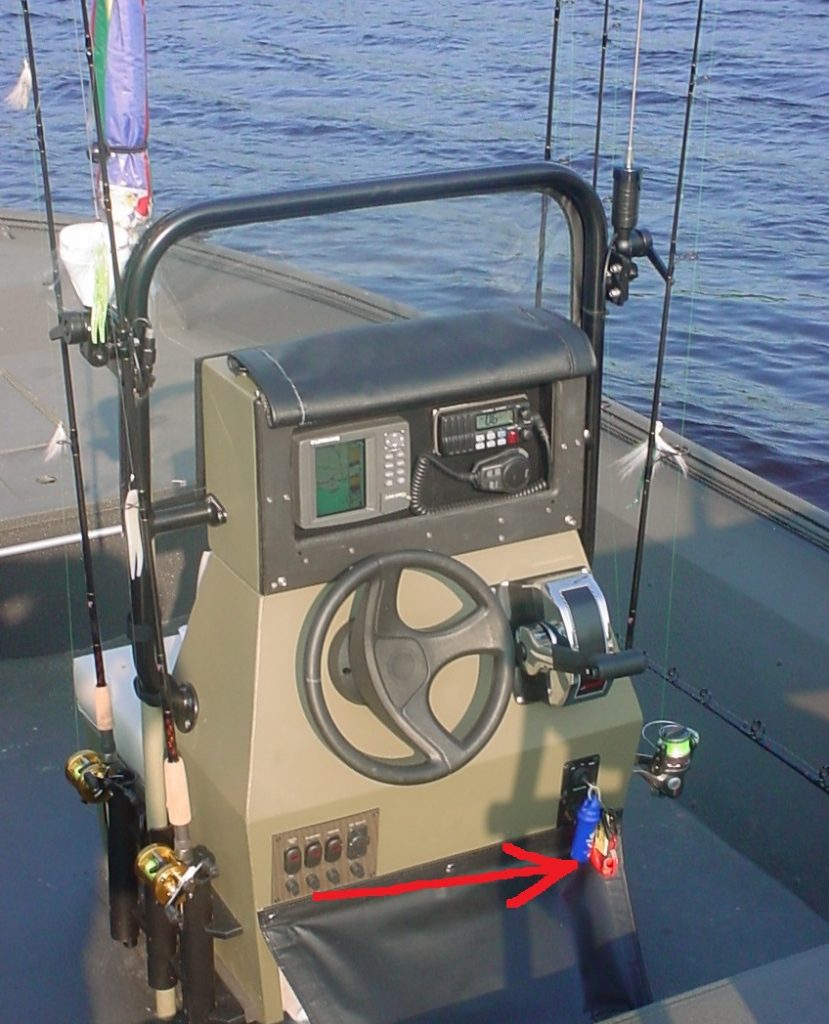 ​The 2018 law requires that manufacturers equip new recreational boats of less than 26 feet and an engine capable of at least 3 horsepower  with an engine cut-off switch. These switches have been installed on many boats for more than 20 years, but as of 2019 it is a federal requirement. The lanyard switch has been standard, but the wireless, fob operated switch links, have begun to be offered as standard on upscale boats and optional on other boats.
​The great majority of recreational boats have come equipped with the lanyard style engine cut-off switches for year, but most were not used.  They have been snapped in place so the engine would run, but wrapped around the binnacle controls or otherwise put out of the way instead of being worn.  The National Defense Authorization Act of 2021 requires recreational vessel operators of vessels under 26 feet to use the engine cut-off link under certain circumstances.
​The basic premise of the National Defense Authorization Act of 2021 is that when the helm station is not inside a cabin and a boat of 26 feet or less is operating on plane or above displacement speed, the operator must have the emergency cut off switch lanyard attached to themselves or be carrying the fob of a wireless emergency cut off system and the system is activated.
​Boat operators should read and understand the regulation.  There are situations where attaching the emergency cut off switch lanyard or carrying the fob are not required.  These are all low speed situations.  The ones that stand out are when trolling, operating in a no-wake zone, while docking and while loading or unloading the boat from a trailer.  Another exemption is if the boat's motor produces less than 115 lbs. of static thrust (approximately equal to a 2 HP engine).
​With the current exception of seven states (Alabama, Arkansas, Illinois, Louisiana, Nevada, New Jersey and Texas) that have their own emergency cut off switch regulations, this is a federal regulation and applies to all federally navigable waterways.  In a press release, BoatUS stated they expect most states to amend their regulations to match federal law over the coming years and noted that 44 states already have emergency engine cut-off switch laws for personal watercraft.
​The new regulation carries a $100 civil penalty for the first offense.  BoatUS said they didn't expect the Coast Guard's initial focus to be ticketing boaters, but to warn them and request compliance.  This was confirmed by a US Coast Guard officer.
​"BoatUS supports responsible use of cutoff devices and wants to get the word out to boaters to be aware of this new requirement so they can prepare," said BoatUS Manager of Government Affairs David Kennedy. "We believe the new requirement allows recreational boaters to operate their vessels in a practical manner while increasing boating safety."
​For more detailed information on this regulation and other safety regulations, visit the USCG website at www.uscg.mil. There is also information at the BoatUS website at www.BoatUS.com.